When you plan your dream destination wedding, there are so many magical places to consider, but this blog zones in on one which has it all. Marbella is known as the 'Coast of the Sun' and it is one of the dreamiest coastal locations to have your wedding day. One of the best things about hosting your wedding in Marbella is the diverse number of locations, whether by the sea in an authentic Spanish beachside restaurant or in an architecturally beautiful villa set amongst the scenic mountains.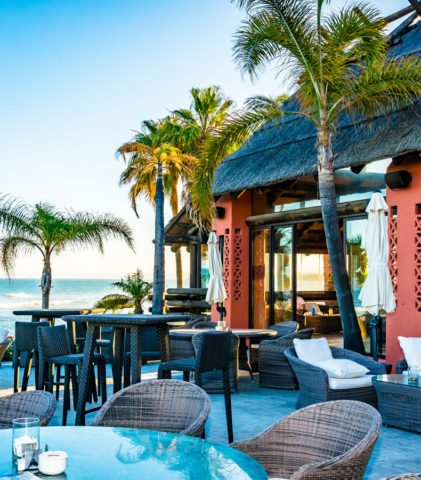 One particularly beautiful location is a stunning beachside restaurant about 20 minutes from Marbella city centre. It has uncompromised views of the ocean, the Rock of Gibraltar, and Africa.  It also benefits from having separate areas within which to host your event. If a religious ceremony is on your agenda, then you can marry on the beautifully manicured grass lawn next to the restaurant with the Mediterranean Sea as your backdrop. The restaurant itself can comfortably seat 150 people for a sit-down dinner with a good size dance floor. 
One of the only restrictions when it comes to weddings in Marbella is the fact that live music has to stop at midnight in public spaces, and this is where this venue has a winning factor. It is home to its very own private nightclub which you can use along with the restaurant if you hire it on an exclusive basis. So if you are planning an all-night party, then once your live band finishes, you can walk downstairs and continue the party until the early hours of the morning. With the uncompromised views and beachside setting, you can be sure that you will get the perfect romantic sunset wedding shot with your partner and remember your Marbella wedding forever.
One of the many attractions of Marbella, is its exclusive luxury beach clubs which are set overlooking the ocean and offer the best of being by the sea and yet also having stunning poolside areas. One beach club in particular is known for its luxurious setting, together with its views of the Atlas Mountains and Gibraltar. If you are hoping for a wedding on the larger side then this venue is perfect as it can host up to 400 guests for a sit-down dinner. In so many places you have to compromise on the venue if you have a large number of guests, but this venue ensures that you can have the best of both worlds. The beach club has its own private cocktail bar and you can choose between having your ceremony around the idyllic white themed pool area, or on the beach if you want to utilise all the attractive aspects of this unique venue.
If you have your heart set on a beachside wedding, but you would also like a contemporary and yet classic villa, then Marbella can offer you just that. Set within the grounds of one of the most iconic hotels on the coast, this venue comprises of a contemporary main villa which you can hire for you and your wedding party to stay in, in addition to a beautiful garden area with a stunning private pool. For weddings, the pool area is usually covered over with an opaque glass covering which transforms it into the perfect dancefloor. The villa itself has six beautiful en-suite bedrooms, a private spa, a cinema room and its own 24-hour butler which is everything you need to have your perfect Marbella wedding experience. It also has direct access to the beach (a bonus for those stunning wedding photographs) and can accommodate 120-180 guests for a wedding set within its beautiful and exclusive garden.
One of the beautiful aspects of a Marbella wedding is that you don't need to be by the beach to enjoy all that this stunning city has to offer. Some of the most visually appealing and quintessential Spanish venues are villas that are set amongst the rolling Sierra Blanca mountains just above the coast. This particular gem sits quietly hidden amongst the foothills of Duquesa. It combines luxury with a rural and rustic feel and is an entirely private location.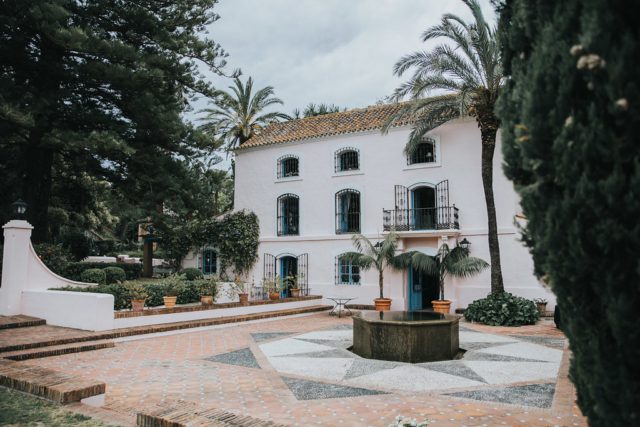 This venue is an ancestral family home and it has that typically Spanish family feel to it. It comprises of a stunning pool area, immaculate and yet rustic gardens and a number of stunning patio areas. One of the best parts of this venue is that you can have all the different aspects of your wedding day in a different location whilst being at the same venue and so your guests will experience all the beauty and diversity of a traditional and equally charming Spanish cortijo. It can also accommodate up to 500 guests and has room for up to 8 guests to sleep in the main house, in addition to the guest houses which can also be rented. The exclusive location of this venue, together with the guaranteed privacy which it has to offer, means that you can party the night away until the early hours without any fear of noise restrictions.
If you have always dreamed of making a dramatic entrance to your wedding then what could be more perfect than an ancient amphitheatre housed within a beautiful palatial hotel and set in the hills of Marbella not far from Puerto Banus. When you imagine being a princess on your wedding day, you can bring that dream to fruition and marry your prince charming in a stunning palace. This venue not only has breathtaking grounds comprising of a tranquil lake and three golf courses, but also multiple areas which one can utilise including the expansive gardens, patios, and halls.
What makes this venue so unique is that it combines classic Roman architecture, inspired by ancient Tuscan history, with a traditional Spanish ambiance and it truly is unlike any other location. It can comfortably host up to 400 people for a large wedding, with 132 guest rooms for your wedding guests to use so that they can party until late and only walk a few steps before falling into bed.
If the hills of Marbella are what attracts you to this stunning place then our final venue is one which is located right at the top of the Balcon Del Golf Hills. This venue is only ten minutes from the Old Town and so it gives your guests the perfect opportunity to explore the Spanish culture whilst enjoying your wedding festivities. It is a little oasis of rich Spanish greenery and has not one, but three beautiful villas, stunning grounds, two pools, and its own private beach house so that you get the best of both the hills and the beach. The three villas can sleep up to 50 guests in 28 spacious rooms which means that your guests can enjoy the magic of your wedding without having to travel further than the doorstep of their villa.
This venue also has its very own soundproof nightclub which will ensure that you have an all-night party to remember. The beauty of this venue is its adaptability. Whether you want something simplistic and Spanish, boho chic, an extravaganza like no other, or an ethereal midsummer night's dream style sit down dinner with floating fairy lights, then this exclusive venue really can play host to all your dreams and fantasies.
Needless to say, we could talk about the many beautiful and idyllic venues in Marbella all day and night because it really is that wonderful! If you have always dreamt of getting married whilst basking in the Mediterranean sunshine in a town that is full of both culture and beauty, then Marbella really is the perfect place for you and your guests to create magical memories which will last a lifetime.